Your boat. Our drive.
In 5 minutes to the perfect electric boat motor!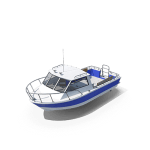 Motor Boat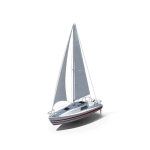 Sail Boat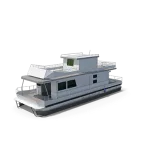 House Boat
Boat owners save time and money searching for the perfect electric drive.
We compare for you more than 450 boat engines from 20 manufacturers.
Greenboatsolutions - Electric motors for boats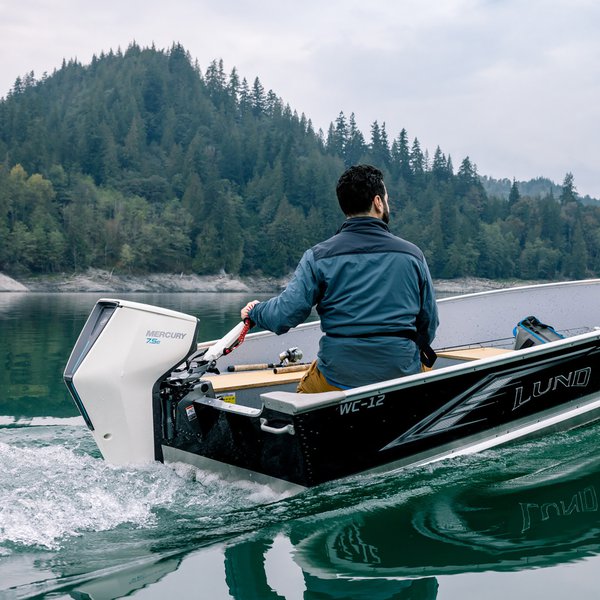 Advantages of electro boat engines
An e-motor is significantly quieter than a combustion engine. As a rule, electric motors are virtually silent at 30 to 60 dB. An internal combustion engine, often over 100 dB, is more reminiscent of a main road. For every 6 dB, the perceived volume doubles. In addition, no polluting and smelly exhaust gases are produced when driving.
An electric motor is significantly cheaper in the long run. You are spared maintenance costs and as an energy source you only need electricity. Depending on the engine, electric motors can be cheaper than internal combustion engines from the outset, especially in the low-power range.
Driving bans for vehicles with internal combustion engines are a recurring topic - also on the water. In Amsterdam, no internal combustion vehicles will be allowed to drive from 2025, and there are already many restrictions in Germany, Austria and Switzerland as well. With an e-motor, you are on the safe side.
With e-drives, there are no harmful CO2 emissions or nitrogen oxides that pollute the air and endanger your health. In addition, pollutants such as fuel, oil or other lubricants do not enter the water. Depending on the boat, even solar or wind energy can be used.
Electric boat engines are 10x more efficient than combustion engines. Especially at lower speeds, electric motors provide more thrust and thus easier handling. Plus, there are no problems starting the engine or filling up with fuel.
The issue of sustainability and environmental protection has become increasingly popular since the Friday for Futures movement. Demand in the boating industry and boat rentals for sustainable alternatives is also on the rise. Boats with e-motors are very much in vogue.
Prejudices against electric boat motors
Batteries effectively have 10 times lower energy density. Due to weight and price, there are some limitations. However, in 95% of cases, this is not an issue. So don't worry, we will optimize the battery capacity for the desired range.
Currently, electric motors are mostly in the premium segment. The costs for electric motors and batteries are decreasing annually and becoming increasingly competitive. Nowadays, electric drives are already more economical in 80% of cases. So don't be put off by the price at first glance.
The charging time to full charge varies depending on the battery and charger. Usually, we design the system so that the batteries can be fully charged overnight at the dock without any problems. In addition, the charging speed and flexibility of e-mobility are constantly improving.
Lead-acid batteries weigh about 30 kg per kilowatt hour and lithium-ion batteries weigh about 10 kg. Depending on the size of the battery, a lot of weight can accumulate. However, there is usually no disadvantage, as the tank and the heavier combustion engine are removed from the boat. Weight is not an issue, especially for displacement boats. For planing boats, it is worth taking a closer look.
Only 3,840 liters of water are required for the lithium in a 64 kWh battery (source: Helmholtz Institute). This is comparable to 250 grams of beef, half a pair of jeans. One kWh emits as much CO2 as about 60 liters of gasoline. Switching to electric is usually worthwhile within the first year! (Assuming renewable energy is used for operation.) Source
Do you want to buy an electric boat motor?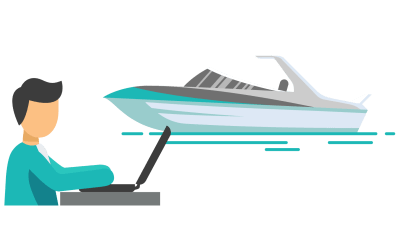 1. Input
You enter the most important data about your boat. We calculate the power of your boat motor and the capacity of the battery.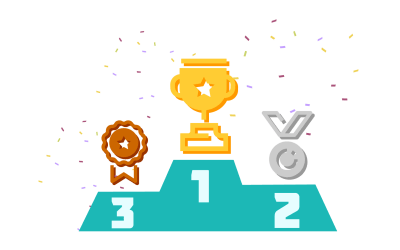 2. Comparison
We search for all electric boat motors that fit your needs. You can easily compare the complete systems.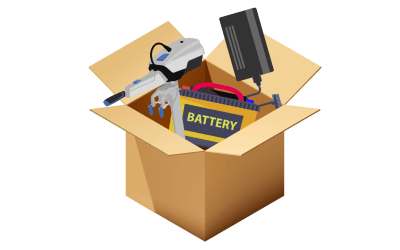 3. Order
Our advice is non-binding for you. If you have found a suitable complete system, you can conclude the purchase directly with us.
Electric motor for sailboats (inboard)
The beautiful Nordic Folkeboat was equipped with a suitable electric drive from WaterWorld. The 4 kW inboard motor was installed in combination with two 48V 50Ah LiFePO4 batteries.
"After the first test drives, I am so convinced of the conversion to an electric drive. Almost no noise and very efficient ride. 5 stars for the components and 5 stars for advice and sales."
Boat type: Sailboat (Folkeboat)
Length: 7.70 m
Weight: 2,100 kg (loaded)
Range at partial throttle: 30 nautical miles
Motor: 4 kW WaterWorld
Electric motor for inflatable boats
The Spirit 1.0 PLUS from ePropulsion is currently one of the most popular outboard motors for inflatable boats, small sailboats or motorboats. The complete package of electric motor, lithium battery and charger is available at an unbeatable price.
With 4 strong guys on board, we reach a speed of 7-8 km/h. Even up to 10 km/h is possible when alone in the boat!
Boat type: Inflatable boat
Length: 3.60 m
Weight: 400 kg (loaded)
Driving time at partial throttle: 4 hours
Driving time at full throttle: 1 hour 15 min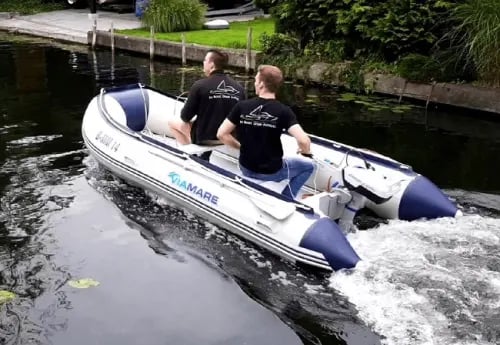 Electric motor for sailboats (pod motor)
For sailboats with rudder, pod motors are a good choice. Here is the 3 kW pod motor with a 4 kWh lithium battery from ePropulsion. The new EVO motors can generate electricity while sailing from 4 knots thanks to recuperation. With solar panels, you are completely self-sufficient on the go.
Depending on the sailboat, the hull speed is reached at full load, and at partial load the boat already reaches 70% of this speed. By the way, the sailboat in the photo can also be rented and tested at Adventure Potsdam boat rental.
Boat type: Sailboat (Aloa 21)
Length: 6.40 m
Weight: 1,000 kg (loaded)
Driving time at partial throttle: 6 hours
Driving time at full throttle: 1 hour 20 minutes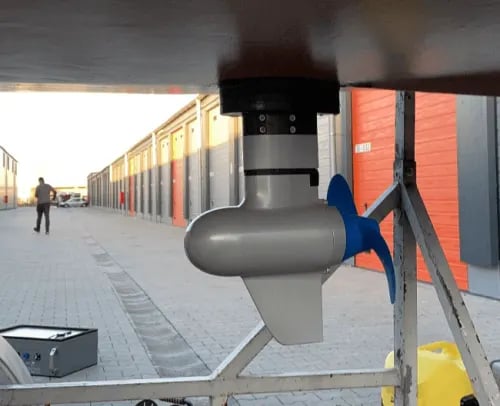 Your benefits with greenboatsolutions
Your boat. Our drive. The suitable electric motors for the boat.
simple.
Few clicks save you a lot of time and stress!
fast.
You will receive a result within 5 minutes.
comparable.
You compare nearly 600 different electric motors.
transparent.
You have an overview of more than 30 manufacturers.